Air traffic control environmental performance metric made available for all
NATS is making its industry-leading environmental performance metric, known as 'Three-Dimensional insight', or 3Di, available to aviation stakeholders around the world, to help deliver even more significant CO2 savings once air traffic returns post-Covid. The UK's principal Air Navigation Service Provider (ANSP) is making the metric available free of charge in the hope that it aids collaboration across the industry and helps to reduce emissions.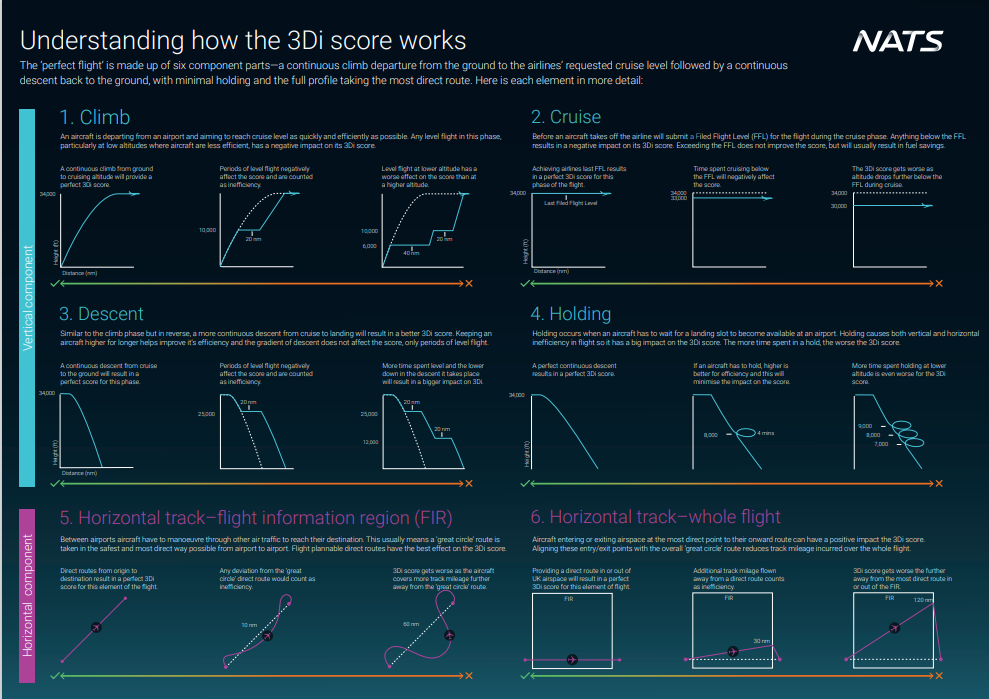 The 3Di metric was engineered by NATS and took three years to develop and win regulatory approval. It was first introduced into operations in 2012, embedding fuel efficiency and environmental performance into day-to-day thinking alongside safety, capacity and minimising delay. The metric measures the environmental efficiency of airspace by providing a score comparing the actual flight path of an aircraft to the 'preferred profile' (or the most efficient possible flight path). The lower the score, the more efficient the flight, with a score of zero representing total environmental efficiency. NATS is regulated and economically incentivised on its score by the UK's Civil Aviation Authority.
3Di is unique in measuring vertical as well as horizontal performance, tracking every radar point in the airspace, calculating the climb/descent rate, additional miles flown, time spent, and fuel burned below the preferred cruising level. Other metrics measure only the horizontal element.
Juliet Kennedy, NATS Operations Director, said: "Reducing the aviation industry's carbon footprint is one of our biggest challenges. Along with other ANSPs, airlines, airports, manufacturers and other stakeholders, NATS has pledged to fully support the UK1 and European2 commitment for aviation to reach net zero carbon emissions by 2050. The greatest CO2 savings can be made with advancements in aircraft and engine technology, but innovations such as electric and hybrid aircraft are still many years away and even sustainable fuels are unlikely to be available this decade on a commercial scale. But managing our airspace more efficiently, and flying more efficiently, can play a crucial role in 'building back better' once the public start flying again and 3Di can help with that right now."
Last year alone, (2019/20), 3Di helped UK-based controllers to enable more than 30,000 tonnes of CO2 savings, and in July 2020, a perfect flight was achieved by DHL Express, with reduced air traffic due to Covid-19 allowing for optimal flight conditions.
Gaining insight into the environmental efficiency of each flight will allow a focus on changes that can improve efficiency. For airlines, that could mean more informed scheduling and flight planning; for ANSPs it could be about achieving more environmentally friendly flight profiles with continuous climb and descent operations, less additional track mileage flown and reduced airborne holding time; for airports it could include better informed stand and slot scheduling.
NATS' offer comes in the same week that the UK Government has set an ambitious new environmental target to reduce emissions by 78 per cent by 2035 compared to 1990 levels and included international aviation for the first time.
Juliet Kennedy said: "Reducing aviation's environmental impact and saving fuel is vital and urgent. We have implemented smarter and more responsive ways to do this, enabling savings of over 6.86 million tonnes of CO2 emissions since 2012. 3Di has played a huge part in this, and we are making it available in the hope that others will find it useful in helping them to better understand their environmental impact and where improvements can be made as traffic returns."
Ian Jopson, Head of Sustainable Operations, added: "NATS has been sharing its experience of using the 3Di metric with its peers in Europe in different fora, as well as contributing to global industry efforts to improve Air Traffic Management environmental monitoring and performance through the trade association of ANSPs, CANSO, and ICAO, the UN body which oversees civil aviation. We have a great opportunity to ensure that when air traffic returns, it is to a more sustainable future where net zero is closer than we thought possible."