Aireon, NATS and NAV CANADA win CANSO Award of Excellence in ATM 2019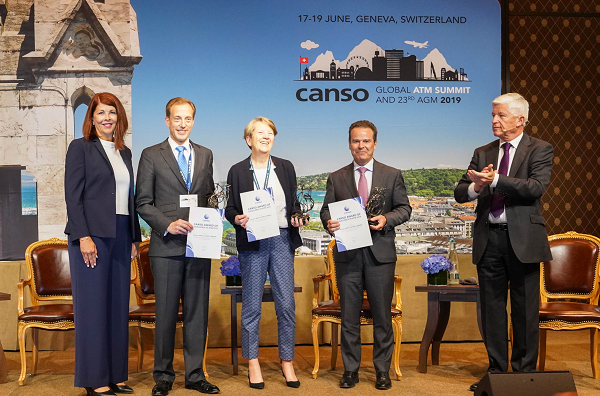 The Civil Air Navigation Services Organisation (CANSO) has announced that the winner of the inaugural CANSO Award of Excellence in ATM 2019 is Aireon, NATS and NAV CANADA for their joint project to deploy space-based ADS-B in the North Atlantic. CANSO Members voted for the winner following presentations by the six shortlisted nominees at the CANSO Global ATM Summit in Geneva on 18 June.
Jeff Poole, CANSO Director General, said: "The word 'game changer' is often overused but space-based surveillance really will transform ATM performance and I congratulate Aireon, NATS and NAV CANADA on successfully implementing it over the North Atlantic. It addresses three of our industry's significant challenges: improving safety through 100 percent surveillance of aircraft; improving capacity as it allows ATM safely to reduce separation distances; and contributing to seamless airspace by optimising flight paths, routes and tracks. In a strong field of innovation and achievement, Aireon, NATS and NAV CANADA are worthy winners of the inaugural CANSO Award of Excellence in ATM 2019."
Don Thoma, CEO, Aireon, said: "This nomination represents the enormous work required to launch the first ever global air traffic surveillance system. It would not have been possible without partner collaboration during the deployment over the North Atlantic (NAT). It's incredible that this started as an idea and is now an operational service, providing valuable benefits to users."
Aireon and two of its partners, NAV CANADA and NATS, won the Award for the first operational deployment of space-based surveillance in the North Atlantic. Comprised of 66 payloads on the Iridium Communications satellite constellation, Aireon provides real-time air traffic surveillance for all ADS-B equipped aircraft. With operations commencing in the North Atlantic Ocean, Gander Domestic and Edmonton Flight Information Regions (FIRs), more than one-third of the world's oceanic traffic is now under positive control by NAV CANADA and NATS air traffic controllers (ATCOs). The deployment of space-based ADS-B in the North Atlantic Ocean makes flying safer, more efficient and more predictable.
Martin Rolfe, NATS CEO, said: "To be recognised among some of the most innovative projects from across our industry is an enormous honour. The introduction of space-based surveillance over the North Atlantic is an historic achievement, making flying safer, cleaner and more efficient and I want to pay tribute to everyone at NATS, as well as our great partners at NAV CANADA and Aireon, who made it possible."
Neil Wilson, President and CEO, NAV CANADA, said: "We are pleased to be honored by our peers for the implementation of this transformative technology in the North Atlantic. This milestone could not have been achieved without the talent for innovation and teamwork shown by our people at NAV CANADA and our partners at NATS and Aireon. Space-based ADS-B is already demonstrating how it can advance aviation safety, improve predictability and boost efficiency with more fuel-efficient routings and flight levels."
Jeff Poole concluded: "Air traffic management is complex and challenging, particularly with the rapid growth in air traffic and the need to integrate new airspace users alongside traditional ones. The CANSO Award of Excellence in ATM 2019 demonstrates the innovation and breadth of the work by CANSO Members to improve the safety, efficiency and harmonisation of airspace. The fact that so many of the Award nominations were submitted jointly by several CANSO Members with different skills and expertise working together demonstrates clearly that partnership and collaboration are vital ingredients to successful ATM. CANSO is delighted to showcase the impressive achievements and excellence in ATM by CANSO Members".