Altitude Angel delivers web and mobile app for LVNL
Altitude Angel, the world's leading UTM (Unmanned Traffic Management) technology provider, has today delivered the first phase in its commitment to Netherlands' ANSP, Air Traffic Control the Netherlands (LVNL), to enable the country's first nationwide UTM platform.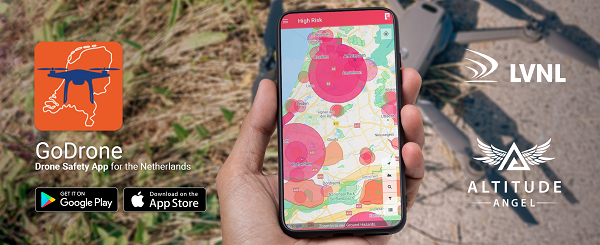 Phase One, the GoDrone mobile app (for iOS and Android) and companion website is a platform which provides vital safety information to recreational and commercial drone pilots in the Netherlands. The application gives users comprehensive airspace safety information critical to the operation of drones. Notice to Airmen (NOTAMs), ground hazards, terrain and current weather conditions are all displayed on an interactive map and as detailed area reports.
Using Altitude Angel's GuardianUTM O/S as the foundation technology, the mobile and web apps include:
Multi Language support (English and Dutch)
Netherlands specific information via local datasets e.g. Waterways and 'Natura 2000' parks
A custom set of map layers, indicating ground elevation
Having only announced the partnership in late December 2019, Altitude Angel has delivered the GoDrone web and mobile apps in a little over three months. With Phase One now complete, Altitude Angel and LVNL will begin to work on the next phase, a pre-approval for drone flights in controlled airspace (CTR) as part of the procedural and collaborative interface with ATC through U-space.
"I'm excited about this milestone," said Michiel van Dorst, CEO of LVNL. "The launch of the GoDrone mobile and web apps is the first step in enabling LVNL to build the Netherlands the infrastructure it needs to open Dutch airspace for special flight operations, to commercial drone use and ultimately BVLOS flight."
Van Dorst added: "With Altitude Angel we have built a qualitative app in a short time. We are looking forward to our cooperation for the coming phases, to further develop the GoDrone web and mobile app to create value for the drone industry in the Netherlands."
Richard Parker, Altitude Angel, CEO and founder said: "We're pleased to have delivered GoDrone for LVNL and in just a few months from signature. It's testament to the great work from both the teams at LVNL and Altitude Angel. GoDrone will be a solid, reliable foundation stone on which LVNL and the Netherlands can build to enable and expand the emerging UAM and drone industries. We're proud to support LVNL in its ambitions to support the drone industry in the Netherlands."