CADENA – continuing to deliver real results in the Latin America and Caribbean region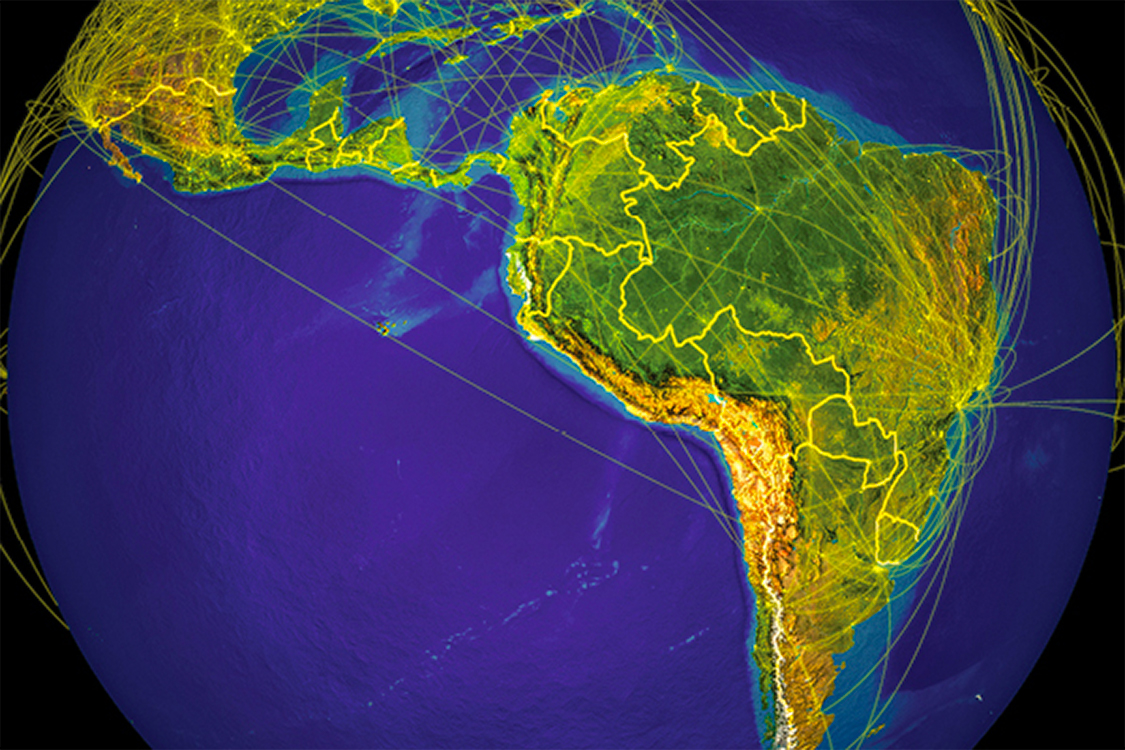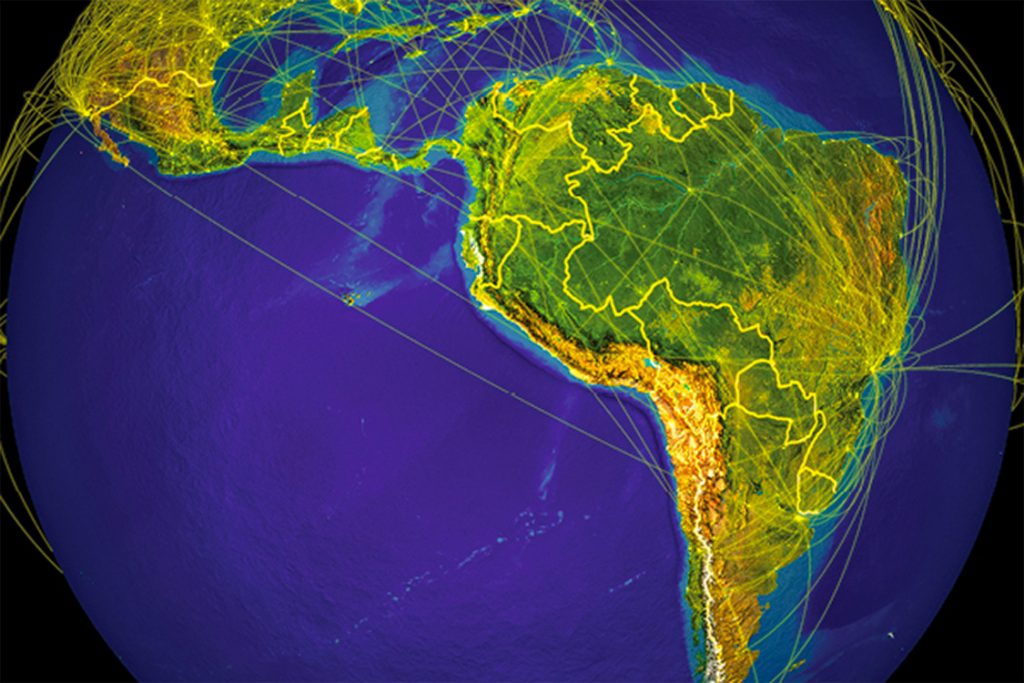 Teri Bristol, Chief Operating Officer of the Federal Aviation Administration and Latin America and Caribbean CANSO CEO Committee Chair (LAC3), explores the latest highlights from the CADENA initiative.
We have had much success since we launched CANSO ATFM Data Exchange Network for the Americas (CADENA) four year ago and we are confident that it will continue to deliver significant benefits to the aviation community in Latin America and Caribbean region for years to come.
When we introduced the initiative in 2016, we realised varying levels of capability and readiness were necessary to implement air traffic flow management (ATFM) and collaborative decision making (CDM). So we decided to implement CADENA incrementally and in straightforward, simple steps to promote CDM, ATFM, and a harmonised system to share information and vital operational data. Over time, CADENA has proven to be valuable and has made significant advances that I am delighted to share with you.
Our membership has grown – the CADENA partnership now counts 16 air navigation service providers (ANSPs), 19 airlines, four international organisations and regional stakeholders as its members. One of the real benefits of the platform is information sharing among this growing community, which improves coordination, enhances common situational awareness, and allows for better decision making among the regional aviation community.
Another success has been the regularly scheduled operations planning web conferences, hosted by each member ANSP in rotation. In addition, we set up special tactical web conferences to inform CADENA's stakeholders about operational information related to ad-hoc events such as hurricanes, power outages, and other contingencies; and, a web-based operational information system (OIS) to inform ANSPs and stakeholders regarding regional operations. https://www.cadenaois.org/index.html
The CADENA OIS has provided a standardised process to share information throughout the region. It has helped to ensure that all parties are kept up-to-date on planned and actual traffic management measures, constraints, weather, reroutes, expected demand, special events, and equipment outages. This not only enhances the efficiency of regional operations but also enables aviation stakeholders to manage their resources more efficiently. Our airline partners have reported that this has increased their on-time performance.
The CADENA OIS Chat Room is another excellent initiative that is delivering real benefits to CADENA members and stakeholders. The Chat Room facilitates communication between ANSPs and airlines in near real time. Virtual tours are available through your facilities if you would like to check it out.
Other achievements this year include the production of the CADENA Procedures Manual, CADENA ANSP Contingency Forms, and the CADENA Letter of Agreement from Flow Management Unit (FMU) to FMU, which are just a few examples of the great work CADENA is doing and sharing with the aviation industry.
For significant events such as the complete outage of a Flight Information Region (FIR), or the impact of a severe hurricane, CADENA has developed, in collaboration with airlines and participating ANSPs, Planned Airway System Alternatives (PASA) contingency routes and End to End routes.
The PASA contingency routes will help to improve predictability, mitigate delays, and enhance safety during these rare events. The PASA routes can be used to temporarily avoid the impacted airspace, and the route database is reviewed and updated quarterly.
The benefits of planning ahead really came to the fore when Hurricane Delta hit the region this October. The push notification mechanism activated the PASA routes protocol and within 30 minutes, the impacted ANSP had approved the airline's route requests. The affected airline was issued a contingency route like the one illustrated below, allowing the flight to bypass the hurricane with a safe and viable choice to destination, saving both time and money, while the ANSPs are provided advanced notifications of the change in their overflight demand.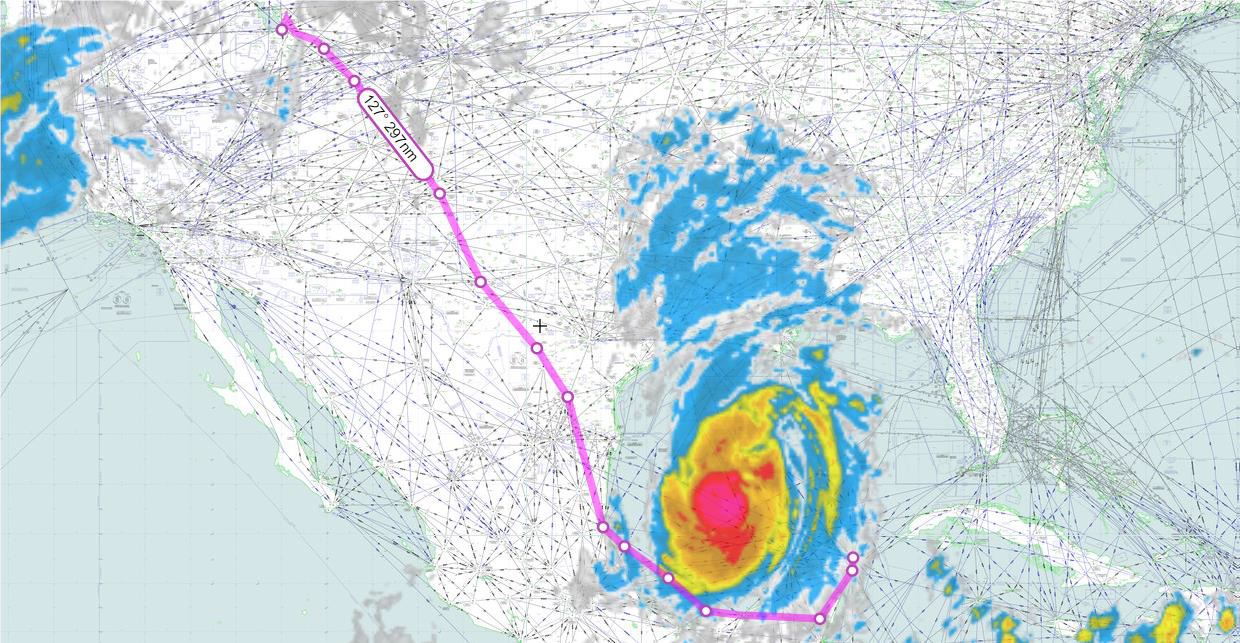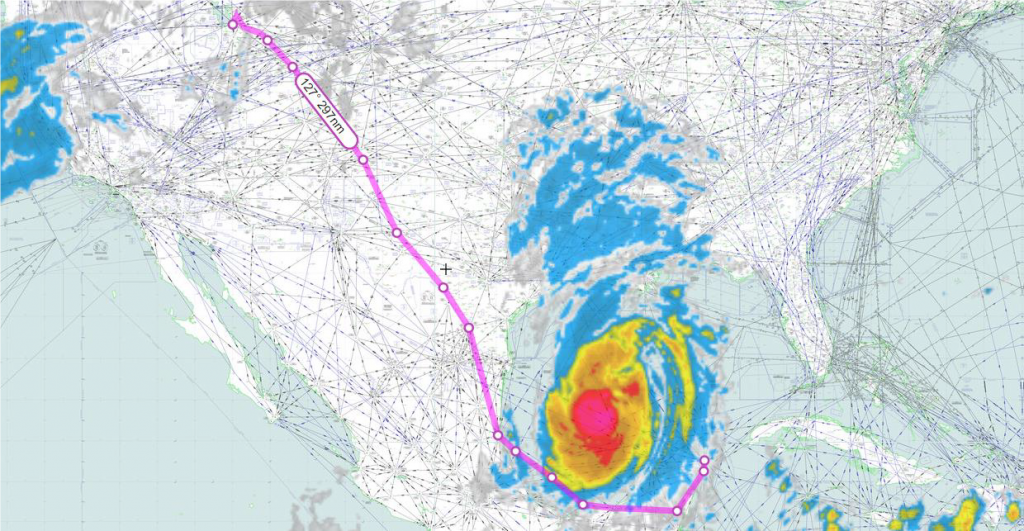 PASA route requested OCT 7, 2020
We also launched the End-to-End (E2E) routes to help optimise flight plans. In the past, controllers gave flight crews "direct" clearance through their airspace. The E2E initiative provides the airline with the option to file an established E2E route in their flight plan thus achieving route optimisation, improved fuel efficiency and CO2 reduction. The pictures below provide an overview of two E2E routes and airline savings.
GND DCT ZPATA DCT YIYYO – 14NM reduction/2 minutes of savings
B777-200ER – 400LBS
B737-800 – 200LBS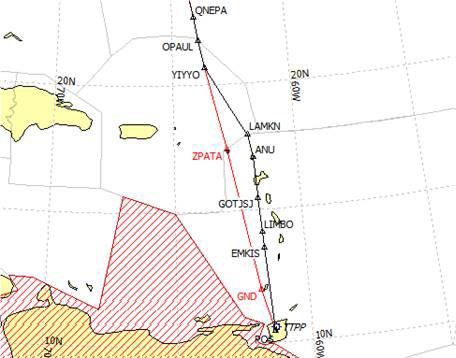 GND DCT ILURI DCT ODUCA – 17NM reduction/2 minutes of savings
B777-200ER -500LBS savings
B737-800 – 200LBS savings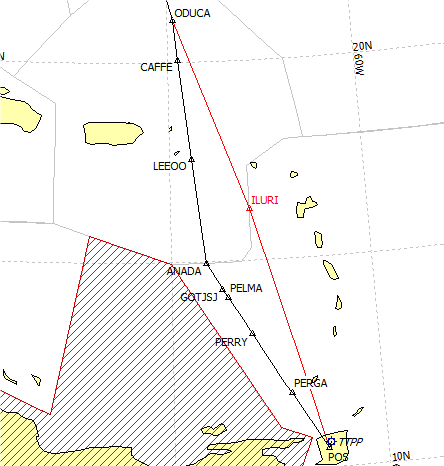 As you can see – it has been a busy four years of coordination and cooperation. CADENA is committed to keeping the momentum going and to continually making positive changes. I encourage any organisation that isn't already a member to take part in this great regional initiative that creates real value for the aviation community.
CADENA – continúa brindando resultados tangibles en la Región de América Latina y el Caribe
Desde que iniciamos CANSO ATFM Data Exchange Network for the Americas (CADENA) hace cuatro años, hemos tenido mucho éxito y estamos seguros de que durante los próximos años continuará brindando beneficios significativos a la comunidad aeronáutica en la región de América Latina y el Caribe.
Cuando presentamos CADENA en 2016, nos dimos cuenta de que se necesitaban diferentes niveles de capacidad y preparación para implementar la gestión del flujo del tránsito aéreo (ATFM) y la toma de decisiones colaborativa (CDM). Por eso, decidimos implementar CADENA de forma incremental y siguiendo la generalidad de pasos sencillos para promover CDM, ATFM y un sistema armonizado para compartir información y datos operativos vitales. Con el tiempo, CADENA ha demostrado ser valiosa y ha logrado avances significativos mismos que me complace compartir con ustedes.
Nuestro grupo ha crecido: CADENA ahora cuenta con 16 proveedores de servicios de navegación aérea (ANSP), 19 aerolíneas, cuatro organizaciones internacionales y otros interesados regionales que forman parte de esta importante colaboración. Uno de los beneficios reales de la plataforma es el intercambio de información entre esta comunidad en crecimiento, lo que mejora la coordinación, la conciencia situacional común y permite una mejor toma de decisiones entre la comunidad de aviación regional.
Otro éxito ha sido las conferencias de planificación de operaciones que programa regularmente cada ANSP. Además, organizamos conferencias tácticas especiales para informar a los interesados de CADENA sobre la información operativa relacionada con eventos ad-hoc como huracanes, interrupciones eléctricas y otras contingencias. Adicionalmente, el sistema de información operacional (OIS) basado en una plataforma de internet se utiliza para comunicar a los ANSP, aerolíneas y las partes interesadas sobre las operaciones regionales. https://www.cadenaois.org/index.html
El CADENA OIS ha proporcionado un proceso estandarizado para compartir información en toda la región. Ayudando a garantizar que todas las partes se mantengan al día sobre las medidas de gestión del tráfico planificadas y reales, las limitaciones, el clima, los desvíos, la demanda esperada, los eventos especiales y las fallas de equipos. Esto mejora la eficiencia de las operaciones regionales, permitiendo a las partes interesadas administrar sus recursos de manera más eficiente. Nuestras aerolíneas asociadas han informado que esto ha aumentado su puntualidad.
La Sala de Chat del CADENA OIS es otra excelente iniciativa que está brindando beneficios reales a todos los participantes de CADENA. Este chat facilita la comunicación entre los ANSP y las aerolíneas en tiempo real. Si desean conocer más, los recorridos virtuales están disponibles a través de sus respectivas unidades.
Otros logros de este año incluyen la producción del Manual de Procedimientos, los Formularios de Contingencia y la Carta de Acuerdo de CADENA entre las Unidades de Gestión de Flujos (FMUs). Lo anterior son solo algunos ejemplos del gran trabajo que CADENA está haciendo y compartiendo con la industria de la aviación.
Para eventos importantes como la interrupción total de una Región de Información de Vuelo (FIR) o el impacto de un huracán severo, CADENA ha desarrollado, en colaboración con las aerolíneas y los ANSP participantes, rutas de contingencia o más conocidas como Planned Airway System Alternatives (PASA) y rutas de extremo a extremo (End-to-End).
Las rutas de contingencia PASA ayudarán a mejorar la predictibilidad, mitigar retrasos y mejorar la seguridad durante estos eventos naturales. Las rutas PASA se pueden utilizar para evitar temporalmente el espacio aéreo afectado, y la base de datos de rutas se revisa y actualiza trimestralmente.
Los beneficios de planificar con anticipación realmente salieron a la luz cuando el huracán Delta azotó la región en octubre. El mecanismo de notificación automática activó el protocolo de rutas PASA y en 30 minutos, el ANSP afectado aprobó la solicitud de ruta de la aerolínea. A la aerolínea afectada se le emitió una ruta de contingencia como la que se ilustra a continuación, permitiendo que el vuelo evitara el huracán utilizando una ruta segura y viable de destino, lo que ahorro tiempo y dinero, mientras que los ANSP reciben notificaciones anticipadas del cambio en su demanda de sobrevuelo.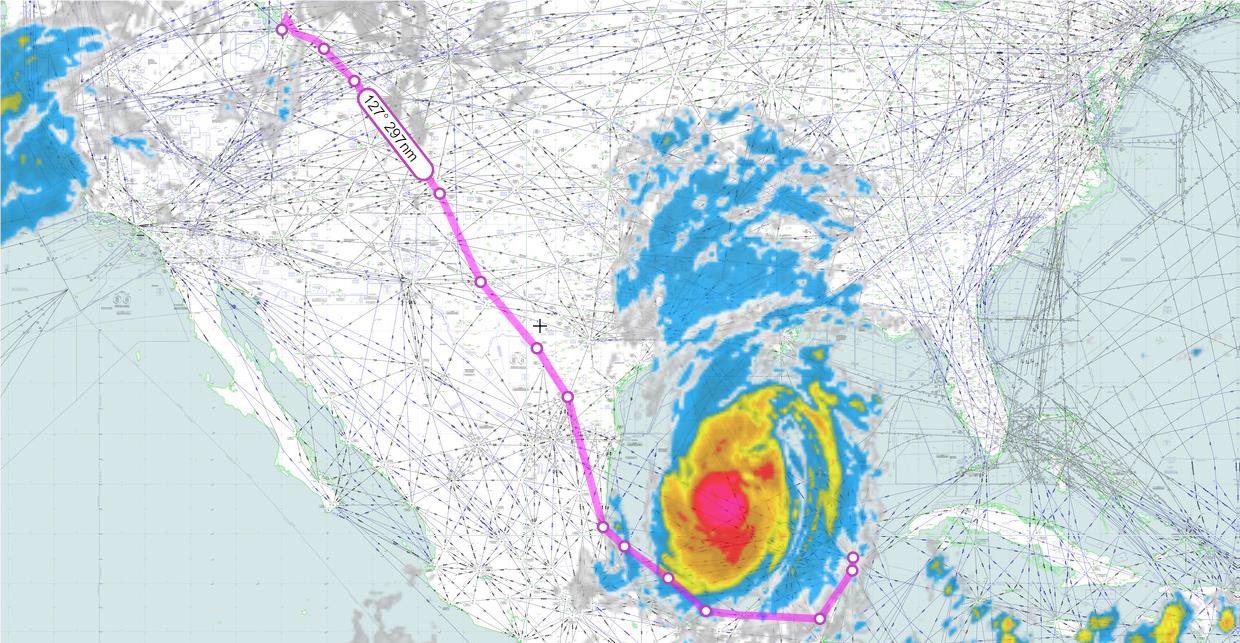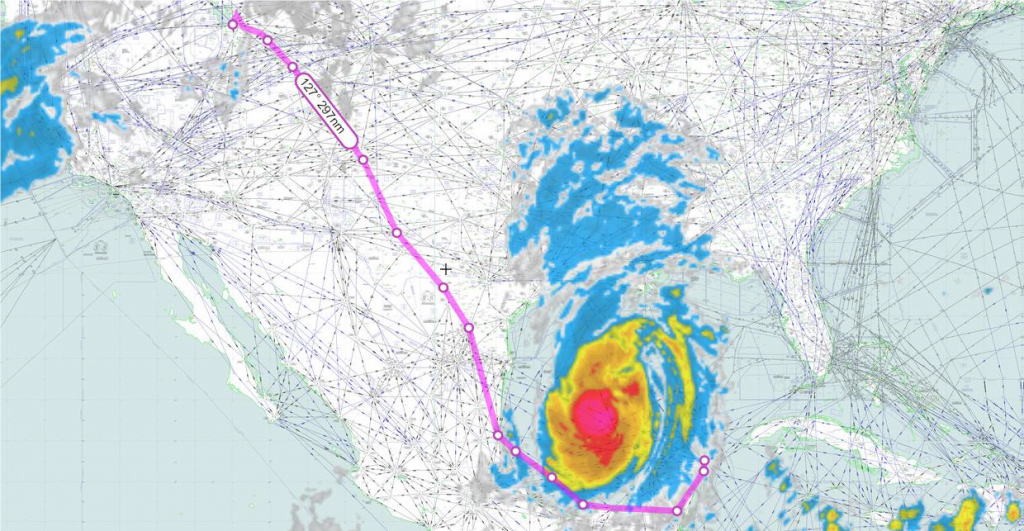 Solicitud de ruta PASA – 7 OCT 2020
También lanzamos las rutas de extremo a extremo (E2E) para ayudar a optimizar los planes de vuelo. En el pasado, los controladores daban a las tripulaciones de vuelo autorización "directa" a través de su espacio aéreo. La iniciativa E2E brinda a la aerolínea la opción de presentar una ruta E2E establecida en su plan de vuelo, logrando así la optimización de la ruta, una mayor eficiencia de combustible y una reducción de CO2. Las imágenes a continuación brindan una descripción general de dos rutas E2E y los ahorros para las aerolíneas.
GND DCT ZPATA DCT YIYYO – 14NM reducción/2 minutos de ahorro
B777-200ER – 400LBS
B737-800 – 200LBS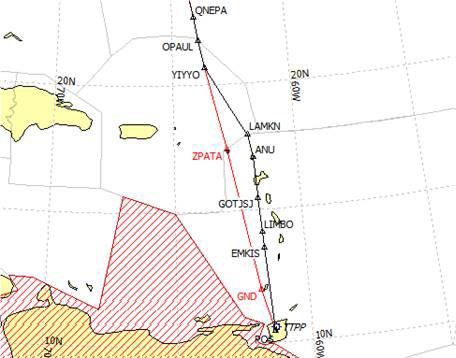 GND DCT ILURI DCT ODUCA – 17NM reducción/2 minutos de ahorro
B777-200ER -500LBS savings
B737-800 – 200LBS savings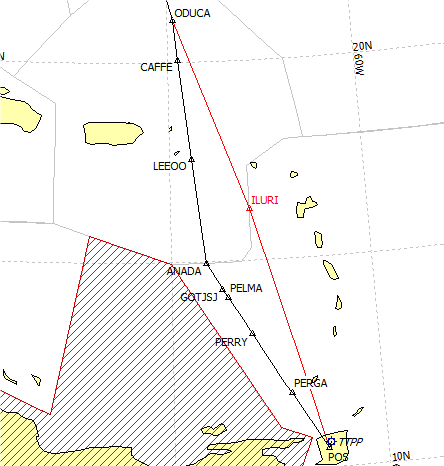 Como pueden ver, han sido cuatro años muy ocupados de coordinación y cooperación. CADENA se compromete a mantener el impulso y a realizar cambios positivos continuamente. Invito a cualquier organización a participar en esta gran iniciativa regional que ofrece un valor real para la comunidad de la aviación.