CANSO showcases the benefits of ATFM in the Latin America and Caribbean region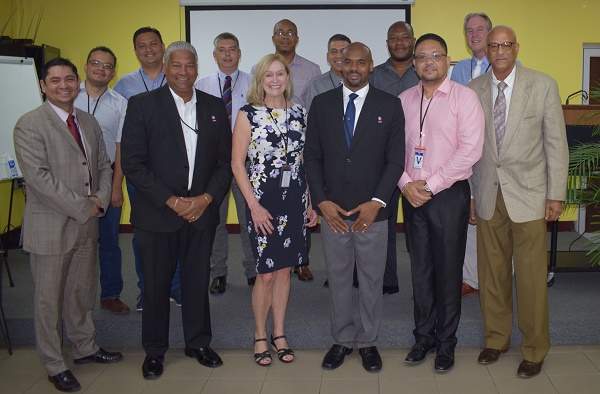 CANSO and Jamaica Civil Aviation Authority (JCAA) organised a first of its kind workshop on advanced air traffic flow management (ATFM) practical and simulation scenario. This is the JCAA´s first collaboration as a member of CANSO and one which seeks to improve air transport within the Latin America and Caribbean region.
The CANSO-JCAA ATFM workshop brought together adjacent Flight Information Regions (FIRs) to explore the practical and technical considerations of ATFM and the solutions to advance implementation in the region. It provided a neutral environment to understand current constraints and potential solutions, allowing for the collaborative development of operational strategies between ANSPs and stakeholders.
COCESNA, DC-ANSP, ECNA, and JCAA participated in the workshop, which featured instruction from Metron Aviation on the use of the ATFM solution for simulation purposes. Together, Metron Aviation trainers Kapri Kupper and Michael Murphy brought more than thirty years of ATFM and CDM implementation and operational experience.
The Advanced Air Traffic Flow Management (ATFM) Practical and Simulation Scenario workshop is a one-week training, which covers operational implementation, concept of operations, ATFM phases, solutions/measures, the required Letter of Agreements (LoAs), CDM process, ATFM Daily Plan (ADP), preparation, and operational scenarios.
To develop hands-on training that is directly aligned with the operational needs of participating adjacent CADENA members, each ANSP provided air traffic data that was uploaded into a simulation scenario. The scenario demonstrated some of the recurring demand capacity balancing issues experienced by the attending ANSPs and introduced a new way to look at problems, identify stakeholders, and find solutions with least impact and increased productivity.
Mr Nari Williams-Singh, Director General, JCAA, said: "With this cooperation, there has been much progress encompassing new operational concepts, technology enablers and the decision support system. As we collaborate to enhance the development of aviation in our various environments, we are reminded that human resource is the greatest one driving innovation and sustainability in the air transport industry."
Considering the growth of global aviation demand, the successful implementation of ATFM is a critical step to ensuring a safe and efficient operational environment. CADENA – the CANSO ATFM Data Exchange Network for the Americas – members have been actively in promoting effective ATFM in the Latin America and Caribbean region among aviation stakeholders, and recently added Grand Cayman International Airport and Mesa Airlines to the group.
Find out more about CADENA and its ATFM objectives here.