Global Conversations: CEO Series with Michiel Van Dorst
CANSO invites members to join the Global Conversations: CEO Series, designed to connect ANSPs and industry suppliers in open conversation about the future of our industry.
We're inviting a number of our CEOs to offer insight into the current challenges and changes they face, and the potential solutions, strategies and requirements from an organisational, regional and industry perspective.
ANSPs will get insight into what other members are doing in terms of best practice, business continuity and recovery, and industry suppliers a clearer understanding of what members need and how they can help.
Participants had the opportunity to submit their questions in advance of the event, and also live during the webinar.
Speakers
Each webinar will be hosted by Conor Mullan, Associate Member Representative for the Executive Committee and Managing Director, Think Research Ltd.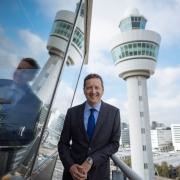 Michiel van Dorst is CEO and Chairman of the Executive Board of Air Traffic Control the Netherlands (LVNL), which he joined in May 2016. Van Dorst is committed to ensuring that the organization delivers world-class performance and fulfils its purpose: Enabling aviation together. He leads a major change process to a more adaptive organization with a strong focus on safety, customers and stakeholders. Before joining LVNL, van Dorst worked for more than two decades at KLM Royal Dutch Airlines, the last seven years as operations executive in the Executive Committee and captain on the Boeing 737 and Boeing 777.
Van Dorst currently serves as Member of the Advisory Board of the Netherlands Aerospace Centre (NLR), one of the leading aerospace applied research institutes in the Netherlands. He served at International Air Transport Association (IATA) as Member of the Operations Committee from 2010 through April 2016.