DSNA
Organisation Overview
DSNA provides air navigation services (ATS, CNS, AIS) through five area control centres and twelve regional divisions.
The ACCs are located at Athis-Mons (Paris ACC), Reims, Aix-en-Provence (Marseille ACC), Bordeaux and Brest. The nine regional divisions located in the mainland manage 76 airports, and the three regional divisions located overseas manage six airports and one overseas ACC in Guyana (Central America). DSNA also operates two airports (Tahiti, Nouméa) and one overseas ACC (French Polynesia) in French overseas territories.
The French air navigation services controlled 3,015,153 flights in 2016, a 4.4 percent increase compared with 2015. Absolute peak day was recorded on July 8th, 2016 when they handled 10,820 flights thus establishing a new Europe-wide record. Previous peak was recorded on July 17th, 2015, with 10,173 flights.
In the framework of the Single European Sky, DSNA is one of the seven ANSPs implementing the Functional Airspace Block Europe Central (FABEC) and is a member of SESAR JU which manages the second phase of the European R&D programme (SESAR 2020).
| | |
| --- | --- |
| Number of Towers Operated | 76 |
| Number of Area Control Centres | 5 ( 2) |
| Number of Employees | 7,562 |
| Number of ATCOs | 3,891 |
Member Information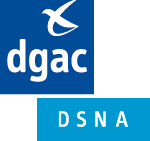 Membership Type: European Regional Office Membership
CEO : Mr. Florian Guillermet
Country: France
Telephone number: +33 (1) 5809 4902
Fax number: +33 (1) 5809 4903
E-mail: florian.guillermet@aviation-civile.gouv.fr
Head office:
50, rue Henri Farman, 75720, Paris Cedex 15
France
Websites:
www.developpement-durable.gouv.fr/-navigation-aerienne-.html